Criminal Defense Attorneys In Savannah, Georgia
It can be very scary facing a criminal charge, there's no doubt about it. When you have been charged with a crime, the stress and confusion of how to handle the necessary legal proceedings can be extremely overwhelming. You may be asking: Should I talk now or wait for a lawyer? How will this affect my future? Getting the right help immediately can drastically affect the outcome of your case, and that's where we come in.
Common Criminal Charges
The field of criminal law is wide-ranging. In fact, most crimes you can think of have their own specified name in the world of criminal defense. Here is a list of some of the more common criminal charges our firm can help you deal with:
Theft
Burglary
Robbery
Family Violence
Harassment
Criminal Trespass
Reckless Driving
Parole Violation
The Law Offices of Harold J. Cronk is experienced representing clients facing felony, misdemeanor, and DUI charges with compassion. We're on your side and will listen to you, fight for you, and do everything we can to tip the scales of justice in your favor.
Georgia DUI Laws & Penalties
Georgia law does not state that driving with any alcohol in your system is illegal, only that the state must prove you are an impaired driver because of alcohol or that your per se blood alcohol concentration is .08 or higher (.02 if you are under the age of 21, .04 if you are a commercial driver).
The penalties associated with a DUI arrest vary by the number of previous offenses one may have on their record. See the bulleted list below for further details on possible penalties:
1st Offense – 24 hours to 1 year in jail, a fine between $300-$1,000, and license suspension up to 1 year
2nd Offense – 3 days to 1 year in jail, a fine between $600-$1,000, license suspension for 3 years, and an Ignition Interlock Device (IID) may be required
3rd Offense – 15 days to 1 year in jail, a fine between $1,000-$5,000, license suspension for 5 years, and an Ignition Interlock Device (IID) may be required
4th Offense – 1 to 5 years in jail, a fine between $1,000-$5,000, indefinite license suspension
Whether you have mandatory community service hours or face jail time and license suspension could depend on your support through the consequential legal processes. An experienced lawyer can help you build a strong defense and fight for reduced sentencing.
Know Your Rights
Most people are unsure of what to do when they've been pulled over. They wonder, should I submit myself to a sobriety test or refuse? In order to determine your blood alcohol concentration, the state will need either a breath test or a blood test.
You Have a Constitutional Right to Deny All Testing
Blood and breath tests are not always accurate. While there is the possibility of a one-year license suspension for refusing a blood or breath test, this suspension is not absolute. If you have refused any blood or breath alcohol tests during a DUI arrest, you will want an experienced attorney in your corner.
At the Law Offices of Harold J. Cronk, we are committed to fighting for the best possible outcomes for each of our client's individual needs. We strive to provide a personable relationship and excellent communication because we value informing our clients and protecting their rights. When it comes to sensitive legal matters like dealing with a DUI charge, we hope that our approach combined with our resources can support you in getting your life back together.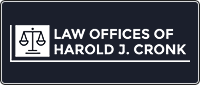 Looking For Help? Call Us Now
(912) 236-4878
To Schedule A Personalized Consultation!